http://www.horlogerie-suisse.com/forum/ … 8&p=161026
loosely translated by Google (made a little more readable by myself)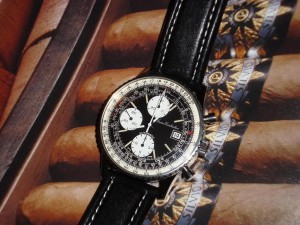 Ollech & Wajs
by saabreit May 19, 2011, 20:00
I have had the chance to some discussion with Mr. Wajs … and also studied a little the evolution of the Navitimer.
First it is interesting to return to the production figures of the house of L. Breitling during the '70s , before the descent into hell until 1978 when only a few units were produced.
Imagine the agony of Willy Breitling probably already sick because he had to close 100 year old family business with dignity which was created by his grandfather – and to do so not since it was a failure but a voluntary liquidation. Let us remember that he will only survive three months in his company.
Plans were put in place for Sinn to get a license to manufacture the Navitimer … but I believe that production have followed the Lemania 1873.
A master watchmaker at Breitling, Jean Zurbuchen, had designed the recently Valjoux 7750 into Navitimer in a housing he made, and sold in more than a few hundreds which is not a fake, but a precursor of future Navitimer of the Schneider era.
Ollech and Wajs young entrepreneurs who have launched a range of sports watches economic and sold in the United States without intermediaries, bought machinery, supplies inventory and WIP – whole or part, I don 't know. Quick sales does not really interest them, and number of models completed, unsold and outdated were transferred to a U.S. wholesaler … 40 years to sleep in the coffers of a company carrying on business as OldWorld Jewellers. 80% of the Valjoux 7740 caliber dedicated to Breitling and Heuer, produced between 1970 and 1973, were fitted into these models.
A wholesaler Englishman, Lester Harrison, also bought a lot of things that he sells on ebay in batches.
And O & W have assembled Navi clones 806-36 and 809-36 Cosmonaut, changing the background, the crown and dial. The Valjoux 7736 of some models has a bridge engraved Breitling chrono … not all.
The pieces are exhausted revived the model, with the dispersions related to the production and pre CNC minor modifications. Thus, it is unnecessary a perfect interchangeability between 806 and Navi Series Aviation.
There were also clones Navitimer 7806 and 7806, Navi 806 and 816, and Chrono-Matic. Over time we saw the glass beads reappear of rice, and other variations.
At Breitling, it takes 1985 to see a new Navitimer, the case no longer has anything to do with 806. I am convinced that this case was in the pipeline already in 1979, because it is close to the Sinn or Zurbuchen. The 81,600 nest a Lemania, mounting cradle-motion-box notable change between 1985 and 1986. The latest version will last until 1991 before passing to the bottom screw, which lasts until 2000, withdrawal date of the Lemania Cosmonaut.
In 1987 appears the Old Navitimer with Valjoux 7750 finally.
Mr Wajs revealed me a spicy fact about the story of Breitling SA .
As a final chapter of the dispatch of firma Leon Breitling capital E. Schneider bought the brand Breitling and all remaining things that had not been sold to smaller players .
In the package it was an "assembly line" … at this period , Schneider did not believe in any kind of future of mechanical watches , and he still had enough machines in his Grenchen Sicura plant … so he sold the Breitling assembly line to… Rolex!
At this period the swiss law stipulated that the industrial property was setted by effective manufacturing anteriority . Considering that Mr Wajs started to assemble watches from Navitimer parts at the beginning of 1981 , he was the effective owner of industrial property on Navitimers . Mr Wajs told me that this law was changed a short time before 1985 , when Breitling launched the "Old Navitimer 81600" . Schneider brought Mr Sinn before german justice, and neither Zurbuchen or Wajs were determined enough to dispute the rights to Schneider … a dark side of the beginning of Breitling SA and rebirth of the Navitimer.
Schneider was the owner of the brand and deposed names as Navitimer was.
In 1980 the design of the Navitimer was more than 20 years old and not protected .
Wajs, Sinn and
Zurbuchen
were " recycling" unmarked Breitling parts , replacing marked parts by neutral ones , printing their own dials .  We have to accept that things were not 100% clear from both sides … and as Schneider was determined , he won against less determined guys .
I gave a phonecall to Mr Peter Wyss, as Mr Jean
Zurbuchen
had spoken to me of this gentleman.
Some of the informations given by PW are in contradiction with previous datas held from JZ himself.
According to PW, JZ has been acting as a talentuous employee at L.G. Breitling at the beginning of his career . Then when Breitling came against difficulties, he left and established first thru a repair shop and then specialized in horological antiquorium .
PW had bought the property rights of the brand Orator… JZ and PW cooperated in order to develop their own watches using Valjoux 7750 and to consolidate their needs to get better conditions together from case makers .
PW had some Breitling parts that he dispatched to private enthusiasts on horological fairs and swapmeets many years ago , and he does not have anything at the time – except a limited quantity of NOS Chrono-matic 2111 empty cases . He also spoke about a certain Mr Zuccati – never heard anything of him before, and this gent died years ago – who had bought a large batch of mechanical parts and calibers – directly from LG Breitling or as a rank 2 player, PW does not remember the details.
breitlingsource.com/phpBB2/viewtopic.php?f=11&t=36602