Breitling 765 AVI investigation 1953 to 1962
first published Nov 1st 2013 on breitlingsource.com, many changes since the initial draft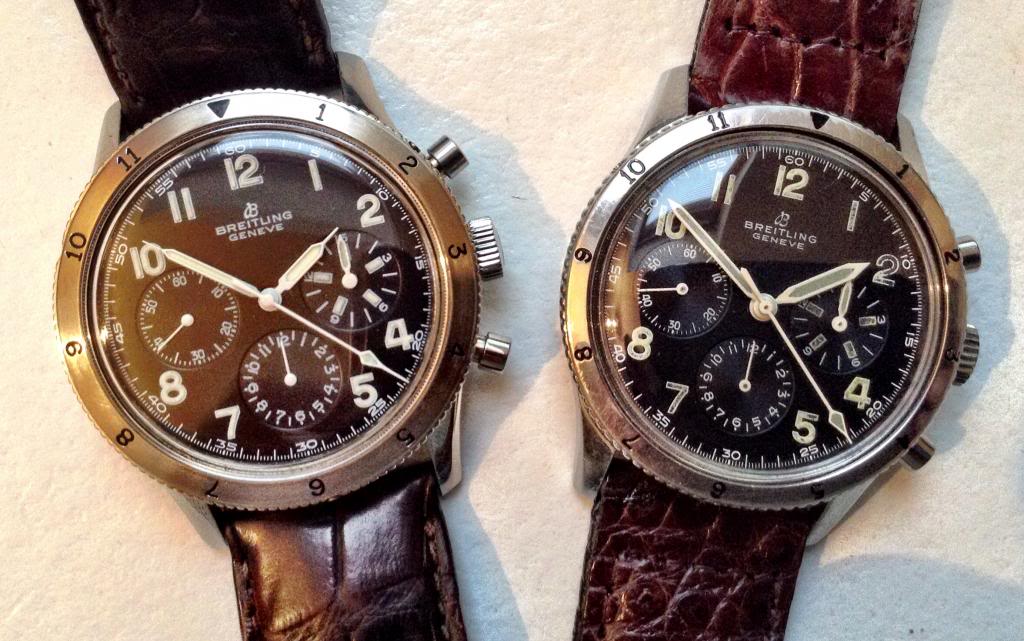 (picture Rene)
When I did my little investigation on the early Navitimers and the bead count on the bezel
How to date the early Breitling Navitimers by bezel beads
I also kept a list of all 'all black' 765's I encountered . As living life got in the way I never did much with that data until recently.
Now I am slowly compiling the data I gathered and here are some of my preliminary findings .
Please keep in mind that this is probably incomplete as I am working with a very limited dataset of approx 28 – 30 pieces. There are more 'all black' 765's out there on the web but I was unable to get meaningful data from them like serial numbers etc but the total number of 'all black' 765's I could find is limited
On the approx 30 watches I gathered data on there are some strange things.
70 % seems to come from 1953 , with the next watches from 1959 , 1960, 1961 and then 1962.
Evidence seems to point to a 2nd run of 'Digital' AVI's in 1960. Whether this was a new order or a 'use up' of old parts we will most likely never know (Ubik/Yaffle , thanks for pointing this out to me) but since these 1960 Digital models have the larger beads on the bezel, a newer type of hands and Geneve on the dial I assume this was a 2nd run or special order for these models.
There seem to be an equal division between 'Digital Date window' watches and 'Analog subdial' watches. Of the 27 watches (1953 to 1962)  13 pcs are 'analog' and 14 pcs are 'Digital' . Based on the small number of watches I have seen this might be an error due to the very small amount of watches but it is something to watch for as I grow this list
All 'All Black 765 AVI" have a steel bezel which is held in place by 3 screws. The screw holes are not in a specific place in the bezel but can be in several places. The screw holes I observed were in the following places : 1-5-9 , 2-6-10 , 3-7-11 , 4-8-12 . The screw placing seems to have no bearing to either serial number or build . This Bezel is used from 1953 to 1962. The 'Click' bezel without screws was first used on the black/white 765 AVI's and Co-Pilots and the earliest 'new' model I have seen is from 1962 (private watch in my possession) which is a black/white 765 AVI with a deeply stamped caseback
Watches can have a gilded V178 or a non-gilded V178 movement. They can also have the BOW and WOG import codes or no code at all.  Again there seems to be no logic to the madness here and either movement can be found throughout the 1953 serial range
All 1953  'All Black 765 AVI" watches have a deeply stamped 765 in the middle of the caseback with the AVI model name below the 765 ref number , however some watches have the AVI stamped in the middle and the 765 below that, this is the case with 2 of the 1961 watches 938333 & 938464 which may point to a small batch of cases that was marked such, manufactured in 1961.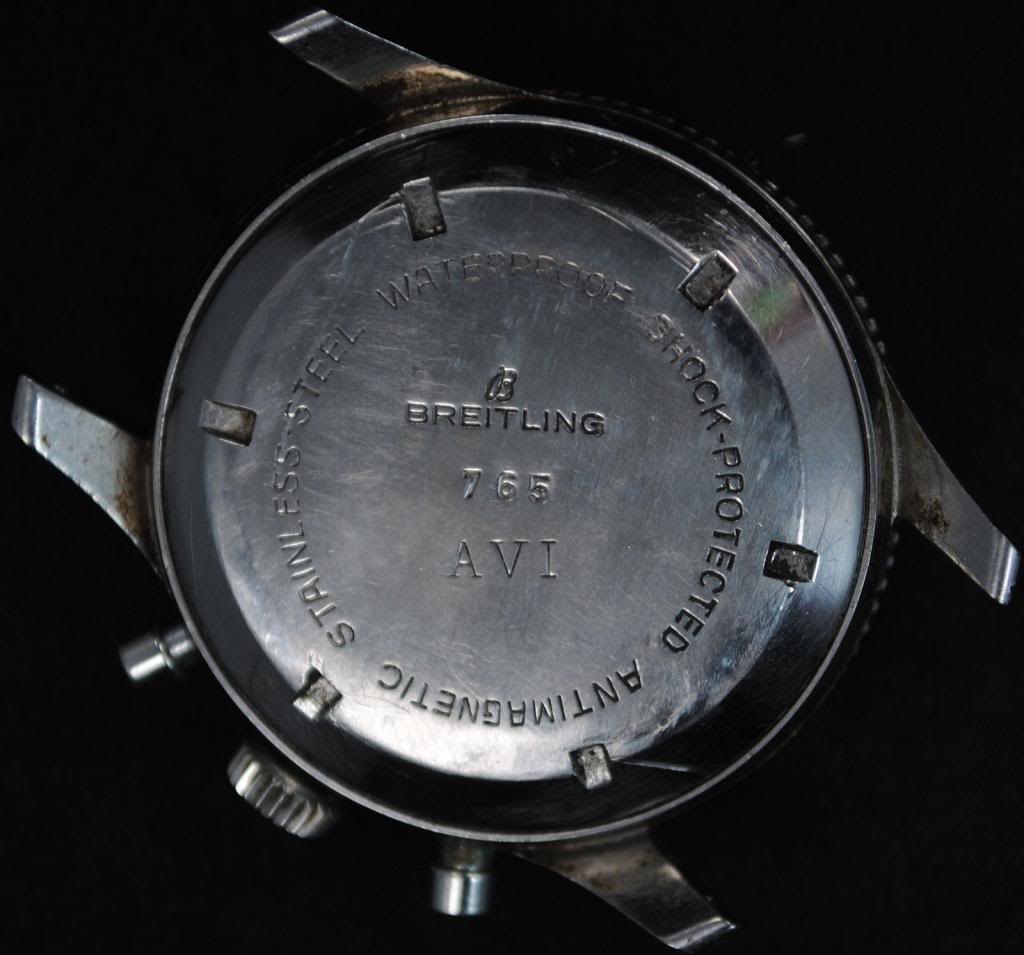 (picture Rene)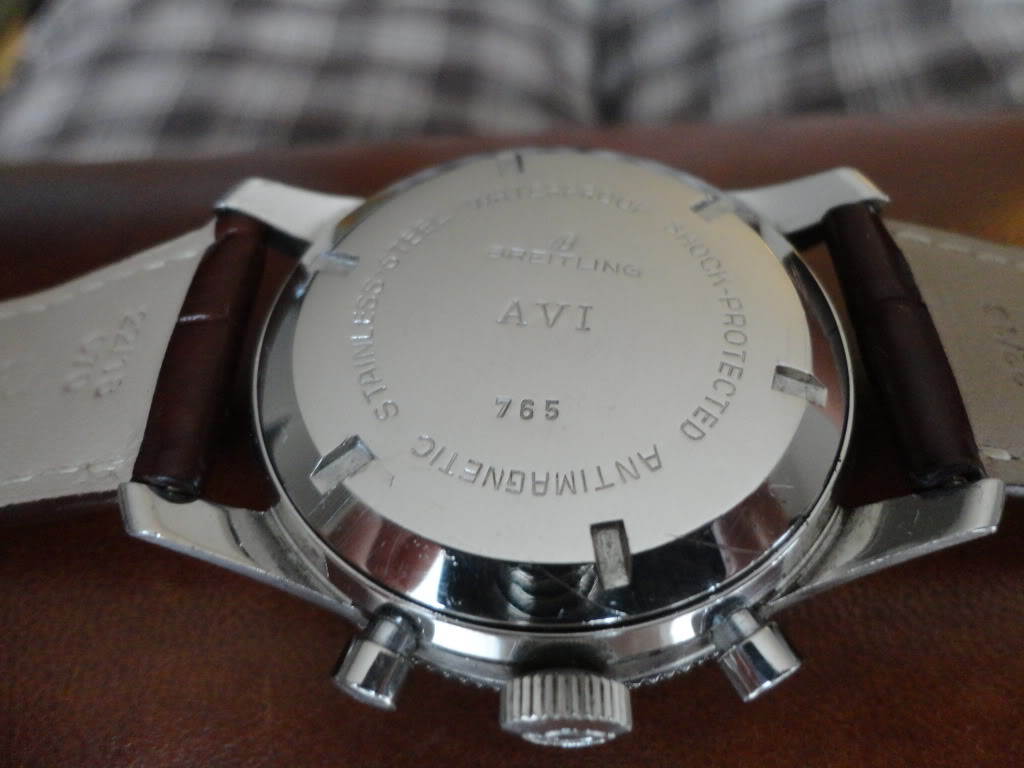 (picture Rene)
<the below paragraph about army engravings is unconfirmed !!!! >
Some of the watches I have seen also have an extra number engraved on the back below the 'AVI' stamp. One Owner was told by the original watch owner that this is a serial number from the Italian airforce. If this is correct , and I have no reason to doubt it, there are All black AVI's out there that were purchased by the italian airforce and I assume these were handed to their pilots and/or navigators as tools of the trade and returned after service . The 'Italian airforce' pieces are again a combination of 'digital' and 'analog' watches where the extra number does not seem to follow any serial number range (see list below) where 827818 has number 421 engraved and is a "digital' version whereas 827833 has number 414 and is a 'analog' version.  
Some sources also site the French Airforce as origin for the extra 3 digits. 1 Italian forum
http://orologi.forumfree.it/?t=63469678 and 
1 french http://forum.chronomania.net/mix_entry.php?id=203319#.UpiMHHdFbwk

"the number of French Air Force assignment engraved on the back (52x) 
  Probably this serial was attributed to a military laboratory as cataloging, 
with subsequent delivery to the various department,  For many years this type 
of watch and follow and 'the 2nd I see with the assignment (at this time and 
the other' in the network and the owners have pointed out that 'the first time 
I noticed the attribution of this model)"
How and where these fit into the Military categories for either French or Italian Airforces is currently still unknown and uncertain and needs to be investigated, also proof needs to be provided before this can be accepted as fact
Rumour 2:
in 1952/1953, the unproven rumors go, Breitling was in intense negotiations w/ the French Airforce and the AVI was developed based on the ref. 765, adapting the 30 minute counter to 15 minutes and adding the 12h bezel – prototypes or a small series were delivered and then the political connections of Breguet/Vixa changed the tender specs to add the flyback functions and Breitling lost the contract. Unsubstantiated, unproven and probably unprovable today, as most corporate documents were not passed on to the new trademark owner, Mr. Schneider. Probably still lying somewhere in a safe
</unconfirmed>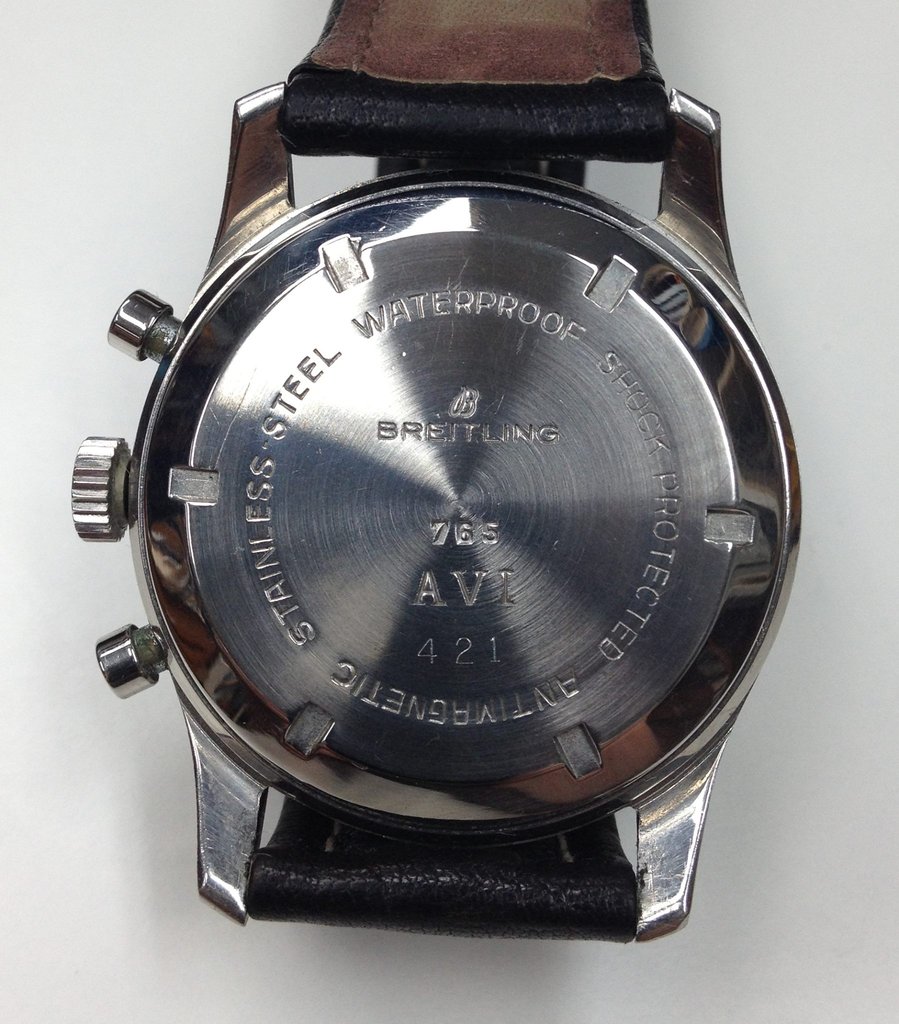 (picture Mr Ari)
What we do know however , and what we are absolutely certain of, is that the Breitling 765 AVI predates the Breguet type XX by at least 1 year. With the earliest Breitling I have seen (serial 820441) released 1/2 1953 and the Breguet type XX being released in 1954 . This by itself should be enough proof that the Breitling 765 AVI was designed, made and released prior to the Breguet type XX.

http://www.qahill.com/tz/type20/type20.html
From 1954, Breguet was commissioned by the French government to supply the Type 20 to the Air Force, the Naval Air Arm, and the CEV. The Breguet Type 20s used stainless steel cases and screwed case backs. 
The Vixa Type 20 was built in 1954 with case and movement by Hanhart. The company "Vixa" was named after a late president of Timex Watches France. (Timex had a factory in Besançon until 1960.) Some 4000-5000 Vixa Type 20 chronographs were supplied.

Auricoste provided around 2000 Type 20 chronographs under contract and delivered them to the French military between August 1954 and March 1955. The Auricoste Type 20 used Lemania movements that were marked "Auricoste."
Surprisingly the 'Digital' All black 765 with date aperture minute counter is listed on this website as
http://www.qahill.com/tz/type20/type20.html
The watch on the left is not a Type 20, but is an interesting flyback chronograph made by Auricoste in the 1950s for the French army. It is difficult to see in this picture, but there is a small window at 3 o'clock for a digital minutes counter. It has a bezel marked in hours, a 12-hour totalizer at 6 o'clock, and a steel case with a screwed back.
(picture Stephen Sugiyama)
The chronology of models as I understand it is as follows (this of course is a one persons POV and I welcome comments)
As with the early all black Navitimers the first indicator of the age of the watch is the bead count and size of the beads. More beads is older , counting beads however is more difficult as the 3 screws in the bezel delete some of the beads. But in general the 53 models have 11 beads between the V and the 1 on the bezel , 1959 has xxxx beads, 1960 has 96 beads with 8 separate beads between the V and 1 on the bezel , 1961 has xx beads and finally 1962 has xx beads. See pictures below for clarification.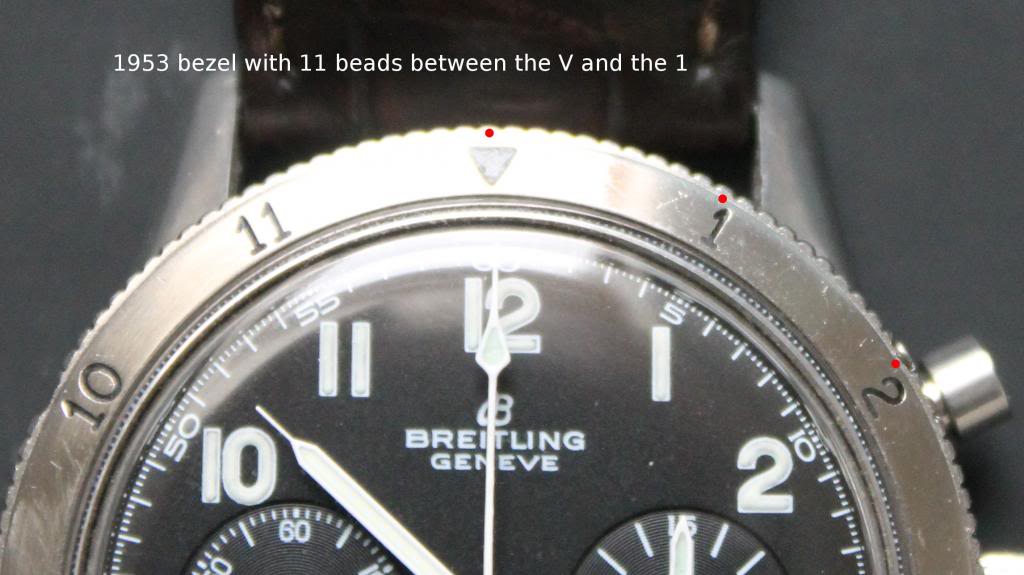 (picture Rene)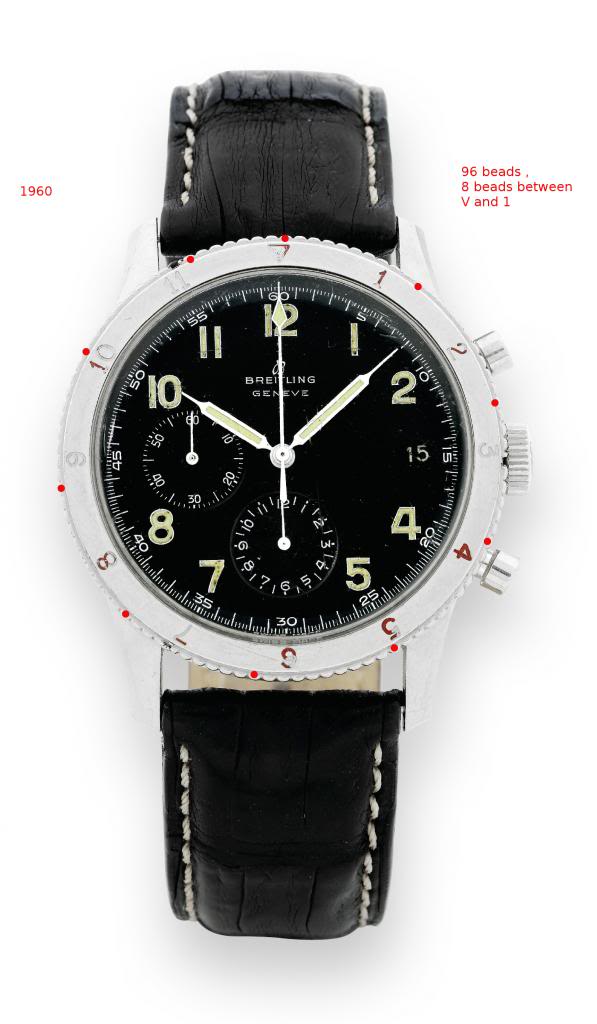 (picture Antiquorum)
Due to the number of beads on the bezel, the bezel itself is of course also a different shape

(picture Rene)

(picture Rene)
Initial model (see below), with the 'date window' as a minute counter, no "Geneve" on the dial (Breitling moved to Geneve in 1953) an a-typical Chrono hand which is (for lack of a better word) 'tapered' and quite narrow hour and minute hands with long narrow tips .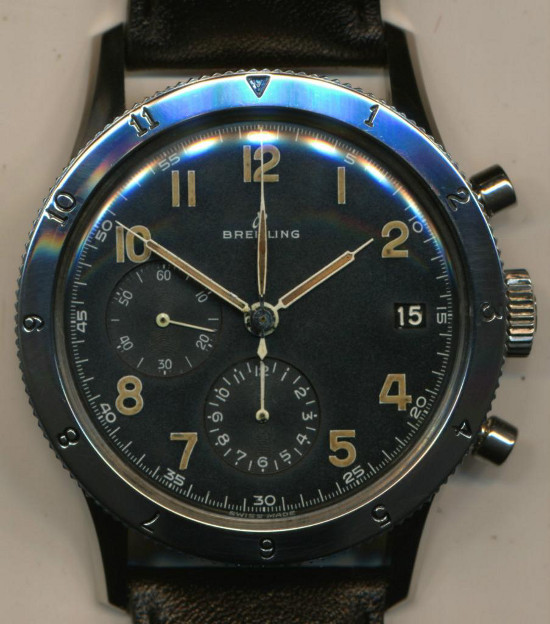 (picture Bill Shaine)
Then Breitling released the next model (see below), it now has "Geneve" on the dial so I assume it was released after Breitling moved to Geneve in 1953 . Therefor I assume this model was released in 1953/54/55. The other change you will notice is the change in the Chronometer hand, which is now shaped as an arrow. This model still has the quite narrow hour and minute hands with long narrow tips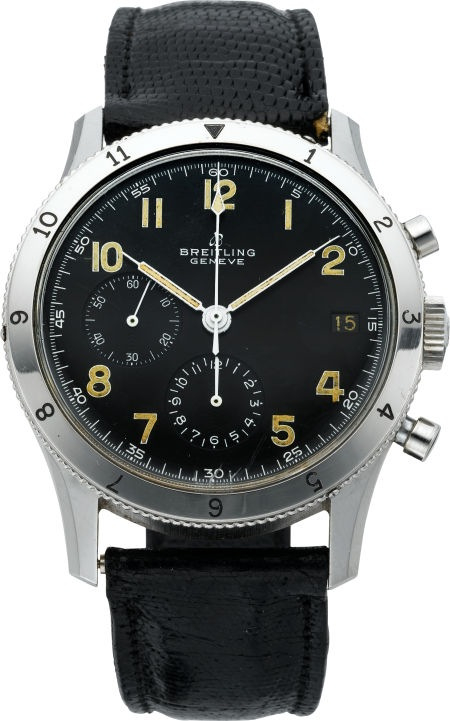 (picture Antiquorum)

For the next model (see below) Breitling seems to have moved away from the date window minute counter and we see a 'normal' circular subdial with a hand. The watch overall bears strong resemblence to the Breguet type 20 released in 1956. In chronological perspective this watch may have been very well released around 1956 as well. The hands are still the same as the previous version with the exception (of course) of the minute counter which is quite fat and with lume inside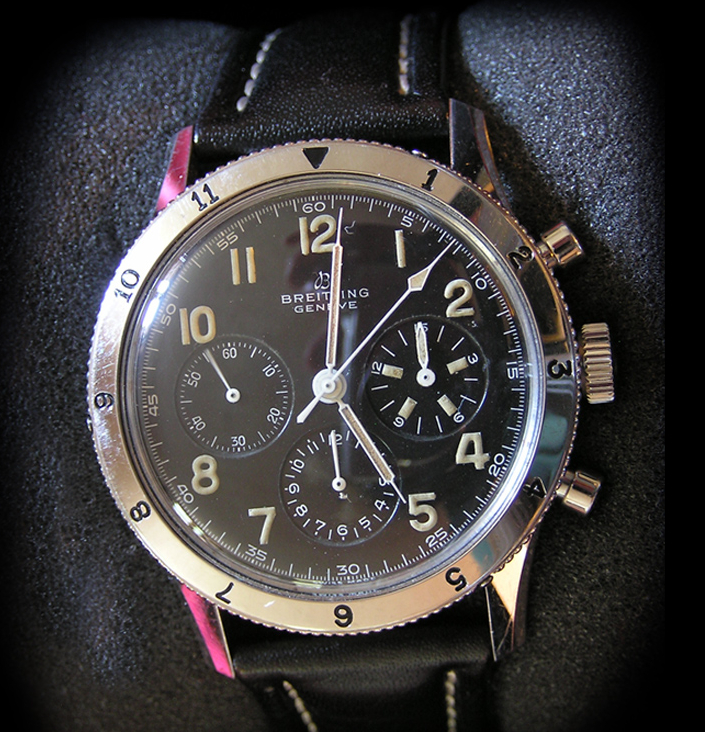 (picture Fudda)
<THIS ABOVE MODEL MARKS THE END OF 1953 SERIAL NUMBER MODELS AS FAR AS I COULD SEE>
Now the Anomaly ,
Evidence points to the fact that in 1960 a series was released that had again the date window minute counter.
The watch has thicker hour and minute hands than previously released versions with the date window and have serial numbers from 1960, and less but bigger 'rice beads' on the bezel.  I have seen 4 watches that look like this .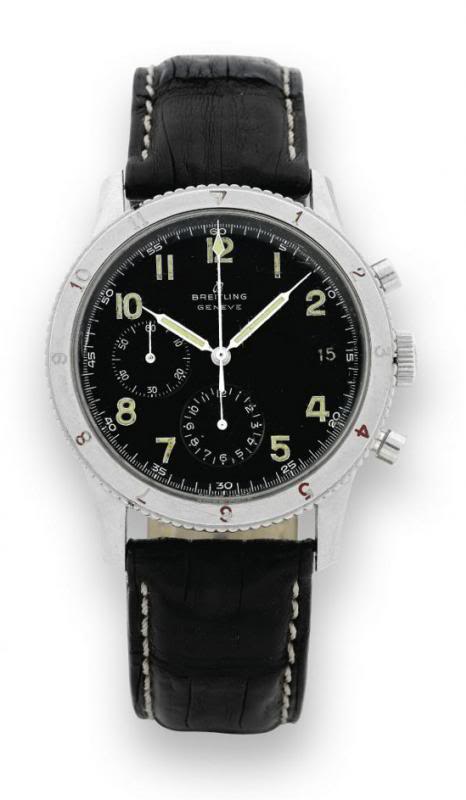 (picture Antiquorum)
The next model (see below) and what I believe is the final version of the 'all black AVI's" with a late 1962 serial number. Thicker hands, and the same bead bezel as described above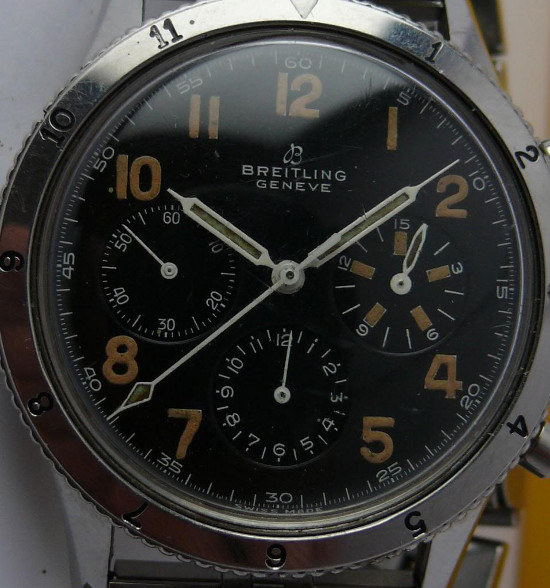 (picture Mr Ari)

During the 1960ies Breitling has also allowed the 765 AVI to be 'co-branded' by Kronometer Stockholm, I have only seen 2 watches , see below for 1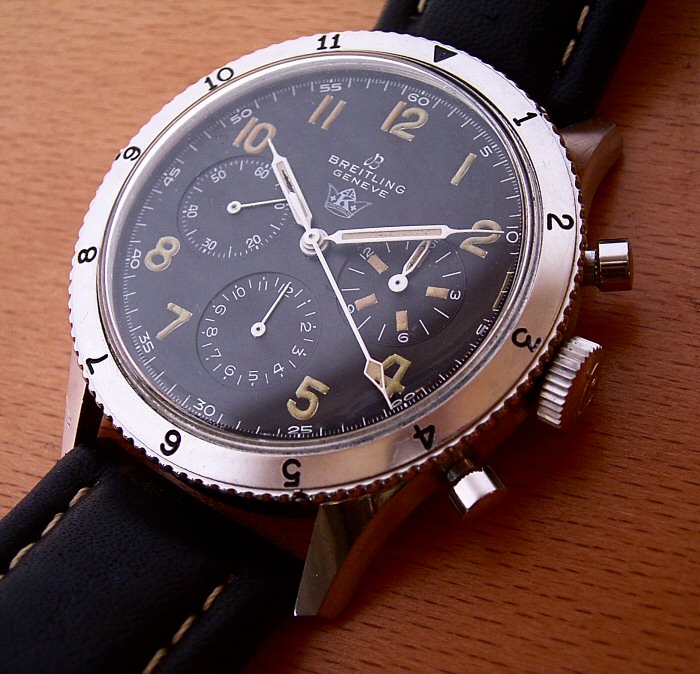 (picture Kurt B)

Same watch , slightly different angle
(picture Mr Desplats)
The 1953 serial number range that I investigated runs from 8269xx/826987 to 827833 , this seems to indicate roughly 1000 cases which were used from 1953 to 1958 (6 years) to build watches. I have contacted Breitling Suisse and asked them how many 765 AVI's were build in 1953 but sadly they have told me they do not have this information (weird, because they could tell me exactly how many V72 Navitimers they build in 54/55 which is 1200 pcs)
Based on the number of watches I have found and have seen over the last 10 years I believe the following manufacturing breakdown can be made for these Breitling 765 AVI watches with a 1953 serial number:
50 to 100 pieces : 1st edition 'digital' without 'Geneve' on the dial
450 pieces : 2nd Edition 'digital' with 'Geneve' on the dial 
450 pieces : 1st Edition 'Analog' with 'Geneve' on the dial 
I don't dare to guess how many are still left 'out there' but personally I believe we're talking about less than a few handfulls, comparing the guestimated manufacturing numbers with the 1954/55 Navitimers w/ V72 Movements these '1953 765 AVI' Breitling 's are much much rarer
Copyright notice :
This work in progress article was written by Rene  / Dracha. If you would like to use this information on your website or somehow publish it please give credit to the writer , and link back to this article and this website as this info was first published on Breitlingsource . I couldnt have done this without all the info on Breitlingsource with a special thanks to Yaffle/Ubik and WatchFred for their feedback and finding me watches to add to the list.
I have used pictures in my article from the following people : BillShaine, WatchFred, Noodia ,F Ari, Kurt B, fudda, Antiquorum , JL Desplats and myself . If you would like your picture removed please contact me on the e-mail address below.
If you would like to contact me or if you have an all black Breitling AVI 765 you would like to sell please contact me : Info@Vintage-Breitling.com
| | | | | | | | |
| --- | --- | --- | --- | --- | --- | --- | --- |
| year | serial number | Digi / Ana 15minutes | Geneve on dial y/n | Number of beads between bezel numbers | all black y/n | Army engraving | Export code |
| 1953 | 820441 | Digi | no | 11 | yes | no | no |
| 1953 | | Digi | no | | yes | | |
| 1953 | 826xxx | Digi | no | | yes | no | |
| 1953 | 8269xx | Digi | no | | yes | no | N/A |
| 1953 | 826987 | Digi | no | | yes | no | bow |
| 1953 | 827098 | Analoog | yes | | yes | Different '76' | WXZ (?) |
| 1953 | 827381 | Analoog | yes | 11 | yes | 452 | N/A |
| 1953 | 827383 | Analoog | yes | | yes | 303 | N/A |
| 1953 | 827565 | Analoog | yes | | yes | no | BOW |
| 1953 | 827689 | Digi | no | | yes | 582 | N/A |
| 1953 | 827695 | Analoog | NA | 11 | yes | | WOG |
| 1953 | 827751 | Digi | yes | | yes | | WOG |
| 1953 | 827774 | Digi | yes | | yes | | N/A |
| 1953 | 827811 | Digi | yes | | yes | | |
| 1953 | 827818 | Digi | no | | yes | 421 | N/A |
| 1953 | 827832 | Digi | yes | | yes | N/A | WOG |
| 1953 | 827833 | Analoog | yes | | yes | 414 | N/A |
| 1953 | 827xxx | Analoog | yes | | yes | 52x | WOG |
| 1953 | 827xxx | Analoog | yes | | yes | N/A | |
| 1953 | 82xxxx | Analoog | yes | | yes | 452 | N/A |
| 1959 | 918873 | Analoog | yes | | yes | | n/a |
| 1960 | 922560 | Analoog | yes | | yes | | n/a |
| 1960 | 922574 | Digi | yes | | yes | | N/A |
| 1960 | 928216 | Analoog | yes | | yes | n/a | WOG |
| 1960 | 928307 | Digi | yes | | yes | | |
| 1961 | 938333 | Digi | no | | yes | no | WOG |
| 1961 | 941291 | Analoog | yes | | yes | | |
| 1962 | 949017 | Analoog | yes | | yes | | WOG |
| 1962 | 949xxx | Analoog | yes | | yes | | |
| | | | | | | | |