As we all know the current Breitling company claims that the Navitimer was first released in 1952 , the current Breitling company even released 'commemorative' pieces with 1952 as the birth year of the Navitimer.
However after long and thorough investigations done by myself , Kurt B and Watchfred we all have come to the conclusion that the Navitimer was not first released in 1952 but rather in 1954 and late 1954 at that.
Please have a look at this article 'How to date Navitimers by counting the beads on the bezel' and you have a good starting point. More beads means its an older watch and the 1954 Navi's with Valjoux 72 movements have the most beads , so those are the oldest.
Some Navitimer's , ref 806 with Venus 178 movement , have turned up over the years with a 1953 serial number. These watches however have less beads on the bezel so they should be later watches. This was later confirmed by Breitling as being 'watches which have had the serial number misprinted' . The leading '8' should have been a '9' , which would make them 1960 watches. This is also backed up by the bead count on the bezel. And even though Breitling insist on 1952 as a release date in that letter , they at least admitted to the misprinted serial number . Kurt's info here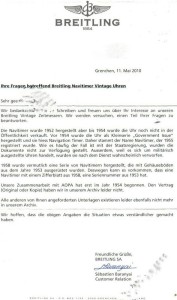 And then there is this final piece of information that Watchfred stumbled upon . The registration and 'first use' of the name Navitimer. This trademark was registered by the AOPA (not by Breitling) as the Navitimer was a watch that was commissioned by the AOPA and made by Breitling for the AOPA ! . Only after this watch became a huge success at the AOPA , Breitling started to make these themselves and started to sell them as well in 1956 . The AOPA watches all have the AOPA signed wing , the Breitling watches do not have AOPA in the wing but Breitling signed dials.
please have a look at the below extract from the US trademark office.
Few things to note are :
Wordmark : Navitimer
first use in commerce : 19541227 (so the 27th of december 1954)
Owner : Aircraft owners and pilots association (AOPA)  and not Breitling
now if this does not settle the dispute once and for all , what will ?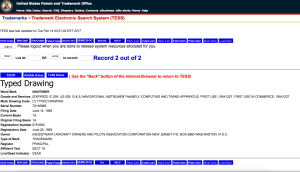 so Dear Breitling S.A, with all of this irrefutable information , will you now please correct the 1952 and give the Navitimer back its true birthyear ? thank you
below you will find the list with serial numbers I have been able to capture over the years, I am sure there are more watches out there but as always , these are the ones I know of
| | | | |
| --- | --- | --- | --- |
| 1954 | 839192 | V72 | refless |
| 1954 | 839232 | V72 | refless |
| | | | |
| 1954 | 843829 | V72 | refless |
| 1954 | 843880 | V72 | refless |
| 1954 | 843929 | V72 | refless |
| 1954 | 843960 | V72 | refless |
| | | | |
| 1955 | 844190 | V72 | refless |
| 1955 | 844216 | V72 | refless |
| 1955 | 844477 | V72 | refless |
| 1955 | 844751 | v72 | refless |
| 1955 | 844809 | v72 | refless |
| 1955 | 844822 | V72 | refless |
| 1955 | 845022 | V72 | refless |
| 1955 | 845053 | V72 | refless |
| 1955 | 845055 | V72 | refless |
| 1955 | 845156 | V72 | refless |
| 1955 | 845181 | V72 | refless |
| | | | |
| 1955 | 864173 | V72 | 806 |
| 1955 | 864373 | V72 | 806 |
| 1955 | 864380 | V72 | 806 |
| 1955 | 864405 | V72 | 806 |
| 1955 | 864513 | V72 | 806 |