This is my personal investigation , and work in progress, helped by comments that I read on the Breitlingsource vintage board. I have taken all comments into consideration, even though I do not agree with all comments, and they have helped me come to the below conclusions.
Counting beads (yes really !)
So far I have found 6 different 'rice bead' bezels on Breitling Navitimer watches and I agree with Kurt B that "More beads is older" I just needed to verify this statement for myself (sorry Kurt !

) so here are my findings.
If I find Navitimers with other bead counts , and if they are all correct and can be properly dated, I will add them to this list
125 Beads:
The Early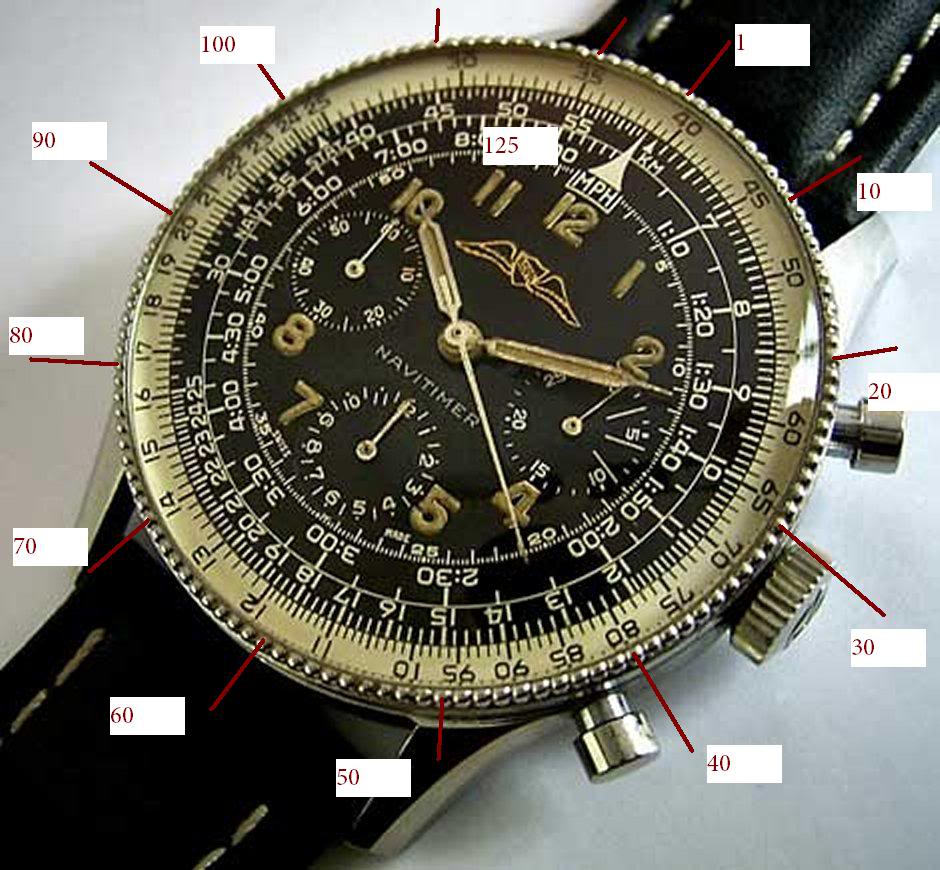 1954 Navitimers with V72 movements that I have been able to identify have 125 beads on the bezel and BOW (note 1) on the movement
Also the earliest know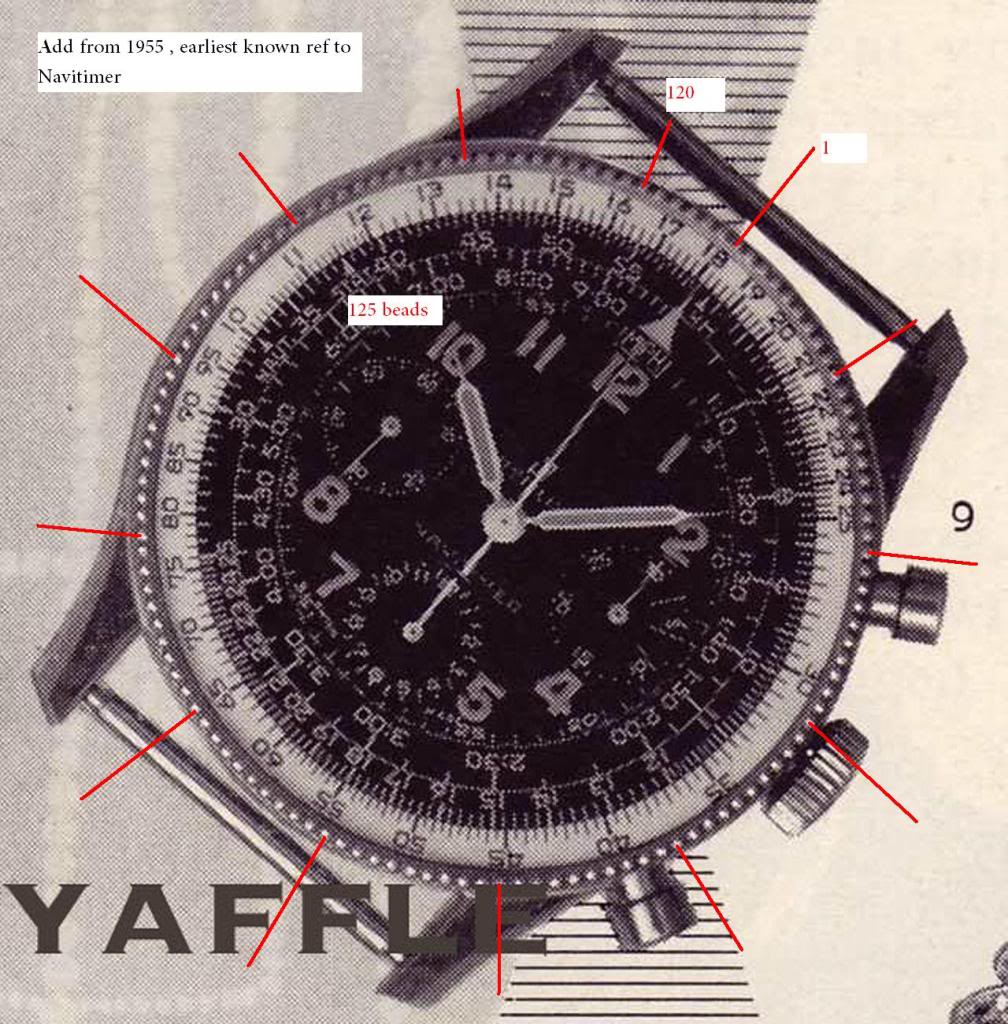 ad. From 1955 (note 4) With reference to a Navitimer has a Navi with 125 beads on the bezel . Ad's are notorious for using older models so I am convinced they used the 1st released model for this. Interestingly though is that the Ad features a model with 'B' on the dial , not the 'AOPA' logo
124 Beads: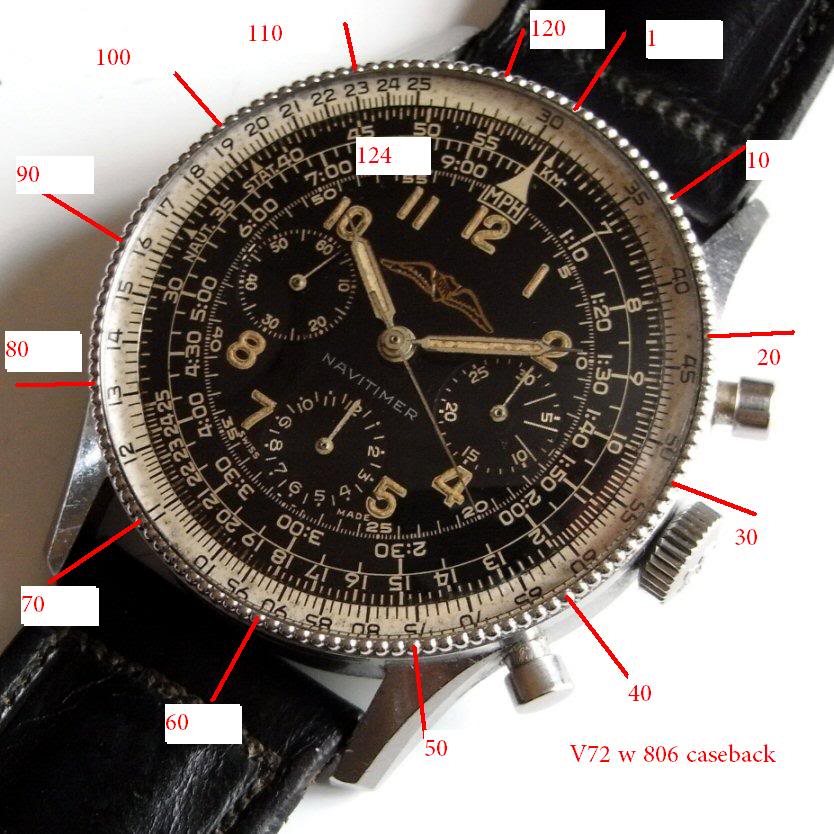 The late 1954 & 1955 Navitimers with V72 movements that I have been able to identify have 124 beads on the bezel and BOW on the movement.
Also the 1955 Navitimer with V72 movement and with an 806 caseback that Kurt recently bought (note 2) I consider this to be a transitional model between the V72's without Ref numbers and the V178 with the Ref 806 and this one has 124 beads. Export code most likely BOW but I am not sure as it cannot be seen in the Ebay auction
120 Beads:
The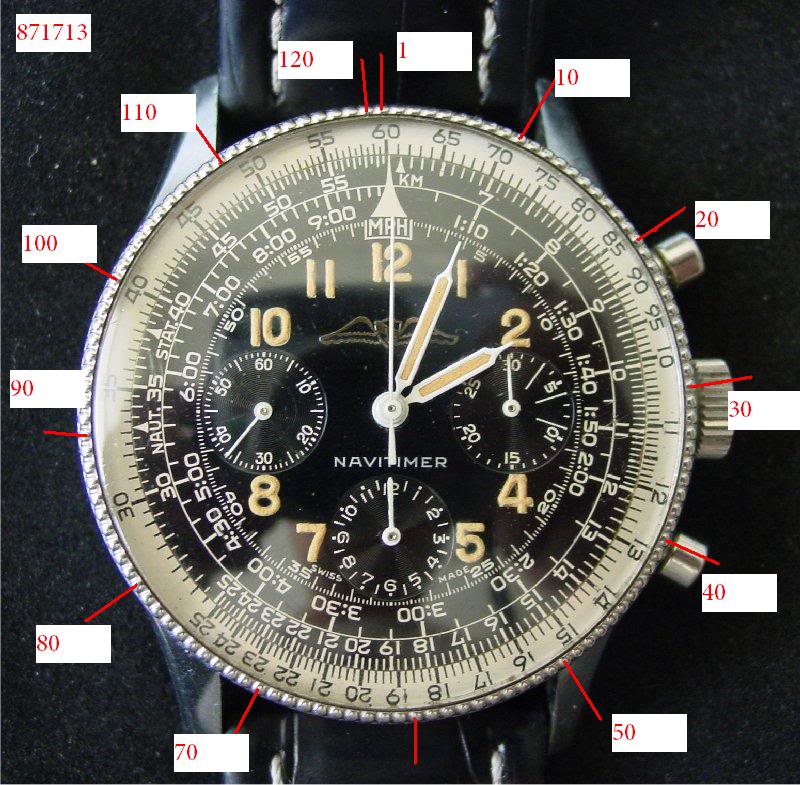 1956 Navitimer with V178 movement had 120 beads . I used a private watch as reference and this watch has serial number 871713 with again BOW on the movement
98 Beads:
The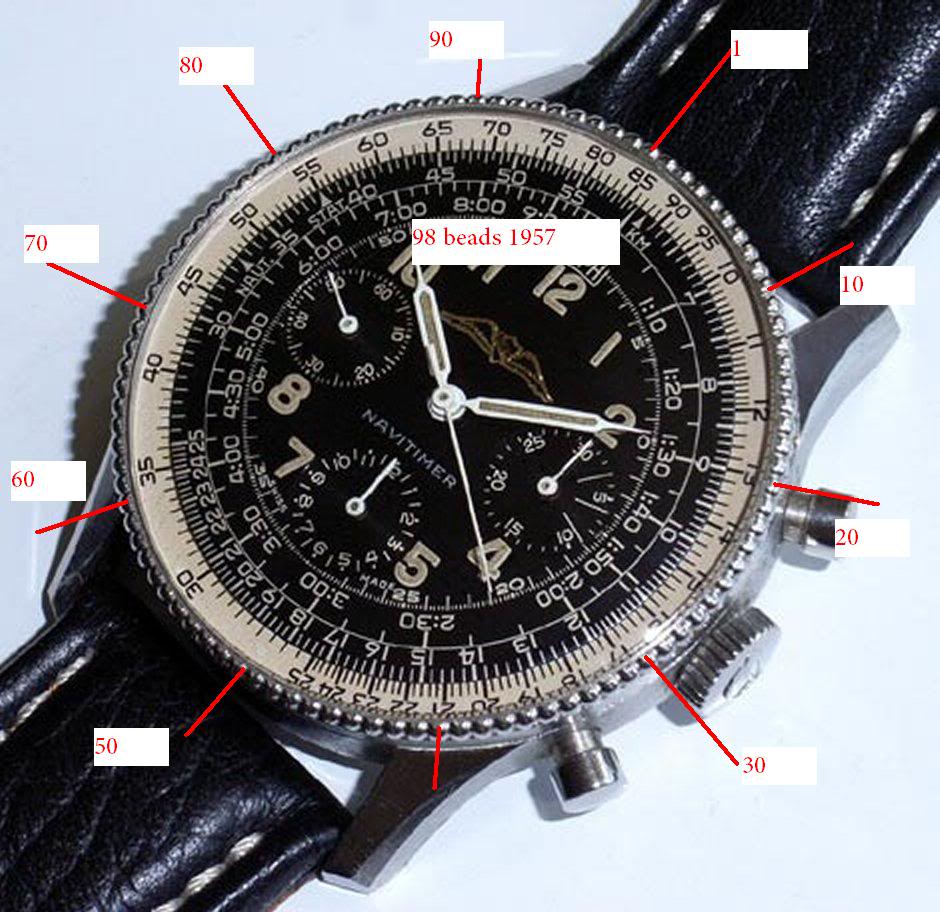 1957 Navitimer has 98 beads on the bezel ,as Identified on Kurt's site (note 3)
93 Beads:
The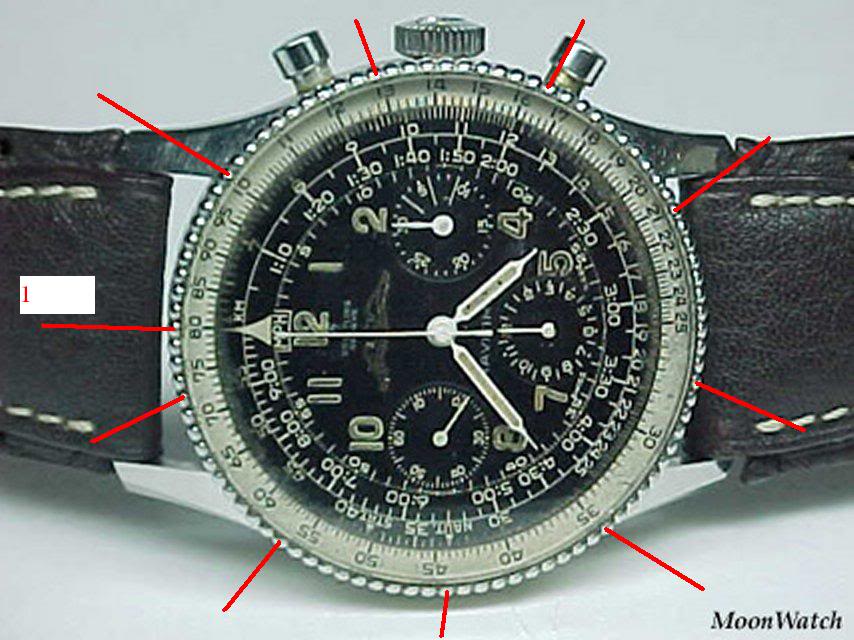 1959 Navitimer I found w/ serial 919xxx + WOG and also here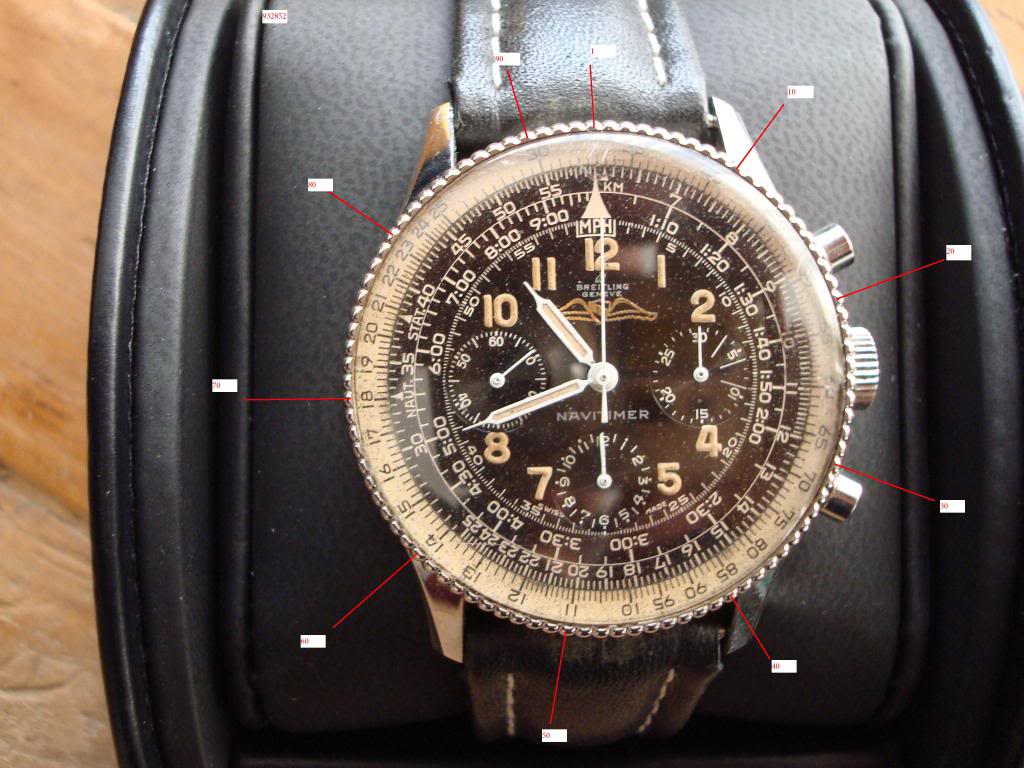 1960 Navitimer with serial 932852 has 93 beads on the bezel and a WOG export code . And also a 1963 piece w/ serial 972995 I found has 93 Beads
Need further investigation:
94 Beads:
speculation warning !
I always assumed that Chronograph Suisse Aviation pieces (O&W ?) were build from parts that were sold when Breitling liquidated in the late 1970ies. the bead count on these bezels may tell a different story as I have not yet encountered Breitling 806's with 94 Beads , but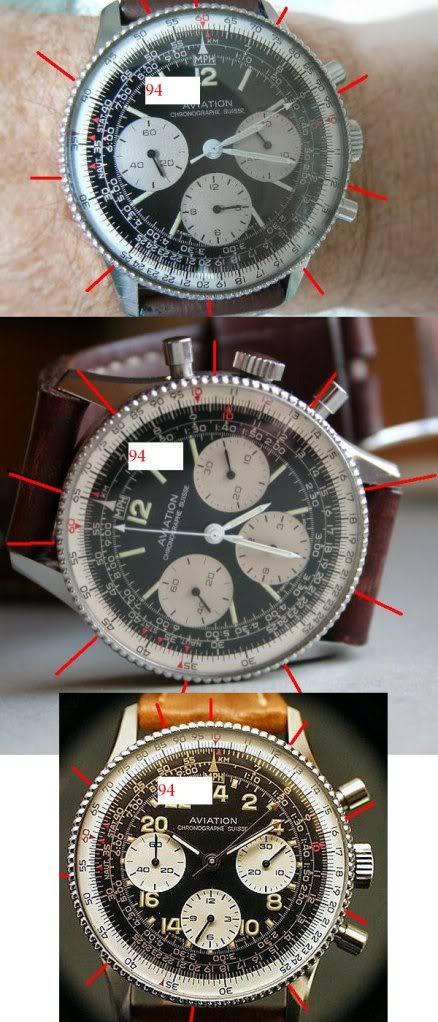 these Aviation watches[/url] have 94 beads. Chronograph Suisse may have just bought the design of the 1st edition Navitimers & the early Chronomats w/ rice bead bezels ? .
92 Beads:
this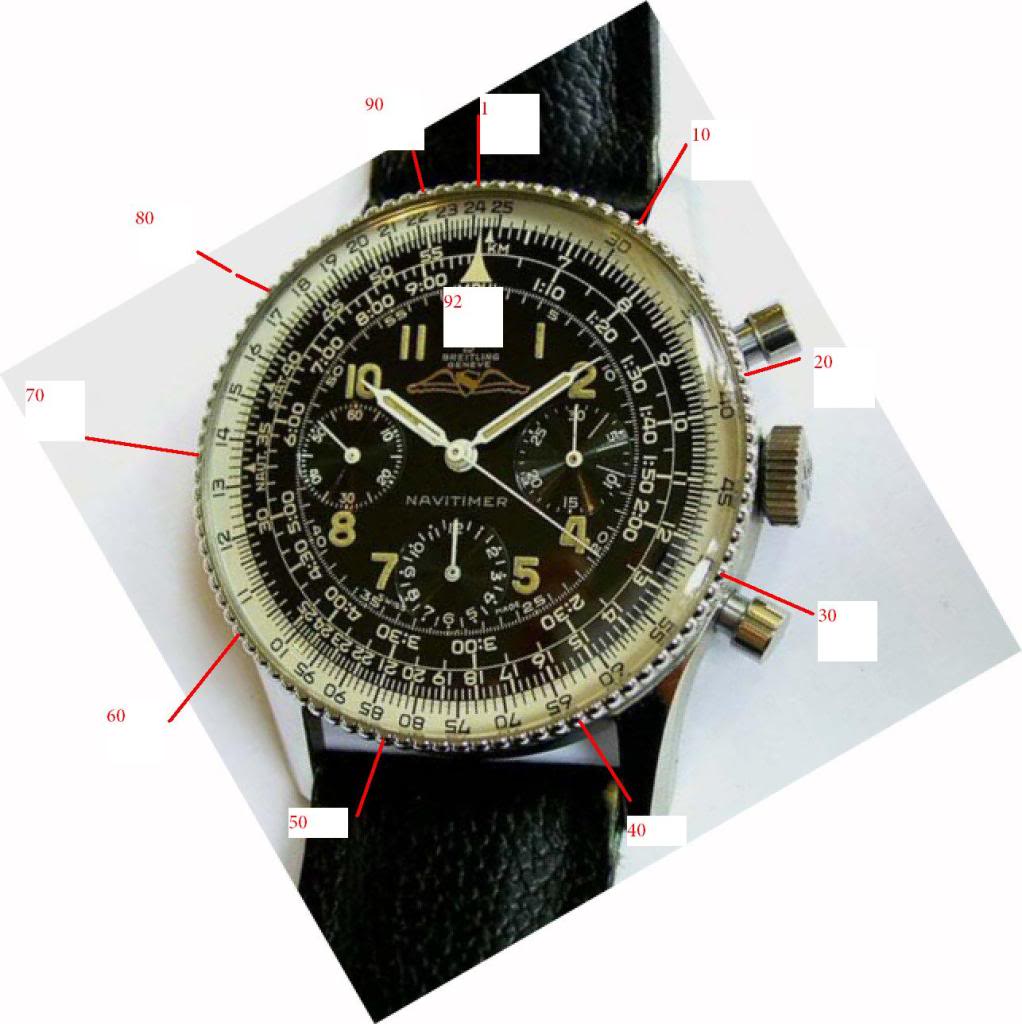 Navitimer has 92 beads on the bezel, date ? I dont know yet
What is missing : I am missing some info on the '58 pieces , some more on the 92 beads pieces and more info on the Chronograph Suisse Aviation watches
If you have one of these can you send me a clear 'full frontal' pic so I can count the beads , the serial number and export code please ? I think that will help to identify age OR prove my theory wrong

(and really, either way is fine with me !, I love facts)
If you would like to do you own counting as well, just let me know and I will send you the material I have used for verification
Thanks
-Rene
note 1) BOW is the import code until 1956/1957 WOG is the import code 1957/1958 onwards
BOW was used by watches imported into the USA by Breitling themselves, WOG was used by Wakmann
note 2) http://www.breitlingsource.com/phpBB2/v … 11&t=32952
note 3) http://www.watchlife.com/DesktopDefault.aspx?tabid=144
note 4) http://www.breitlingsource.com/phpBB2/v … 8&start=15
Copyright notice:
If you would like to use this information on your website or somehow publish it please link back to this article and this website as this info was first published on Breitlingsource & Kurts website (125 beads) and I couldnt have done this without all the info on Breitlingsource , Yaffle, Chris K, Kurt B, TomVox1 , Bill , Roff , our German 'contributer' with his own ideas and many other contributers , be it they posted non-sense to make me see the truth or radical new ideas , plain facts and 'just' world class info that helped me with my counting